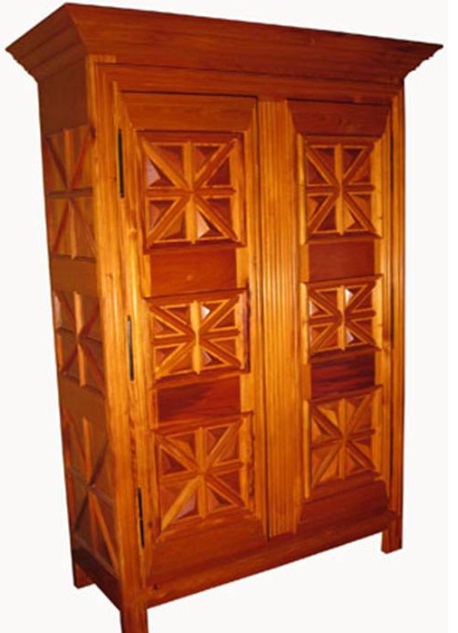 The world is going green and having a wood furniture piece does not contradict this new trend. The furniture produced in Costa Rica is made with reforested woods, that come from plantations thoroughly inspected by the Ministry of Environment of Costa Rica and duly certified for its lumbering and production process. When you think of a piece of furniture made in an overseas country you could be in front of a piece made with exploitation both of nature and human.
But Costa Rican furniture is very particular. First, a lot of manufacturers are independent and therefore create their own income by producing furniture that will be exposed in a fair or in their own workshop. This results in more people doing business, doing what they like and what they learned to do since they are young and one very important factor, involving the rest of the family in the process, therefore creating a family income.
The facts of Costa Rican made furniture
Also, there are companies that produce furniture more efficiently working under strict standards of lumbering, manufacturing andlabor relations. This is why the Costa Rican furniture is so well known for its friendliness with the environment as well as socially responsible. Many years of preserving the forests and trying to replace lumbering of virgin forests with wood plantations like Teak, Melina and other local species that have a rapid growth, the Government of Costa Rica embarked the nation in paying the owners of forested areas with a bonus for preserving their trees with funds that come from industrialized countries that contribute to elimination of Carbon Monoxide through its fixation in trees. Also the education in schools at the same time was being directed to teach the children the importance of planting trees and making contests among different communities to plant as many trees as possible. These are only a few policies implemented in the country that boasts one of the world´s largest biodiversity and preserved areas, that has the goal to be Carbon Neutral by year 2021. Pacific Home Furnishing.com is an important source to find all the wood furniture you need to locate in Costa Rica. It shows a large catalogue with different sections and one of them is Costa Rican made furniture. In it the website promotes the products of Costa Rica to the new owner of homes who want to furnish with quality and distinction, both from factories as well as from independent manufacturers.